Roasted Squash Soup
This is the recipe that I served up in the first ever meeting of
Eden Cooks
.  It is a roasted squash soup that has the flavors of a Thanksgiving dinner and is perfect for a chilly night.  This soup stores well in the freezer, so you can feel free to make a double batch and keep the leftovers for anytime in the next couple of months. I have several recommended alterations listed after the recipe which can make the soup vegetarian/vegan/lactose-intolerant friendly, the version below is for the omnivores.
Ingredients:
1 medium butternut squash, peeled and chopped into 1inch pieces
1/4 c. veggie oil
1 tsp. kosher salt
4 c. (one box) chicken broth, unsalted is better
1 large or 2 small bay leaves
1/2 tsp. ground sage
1/4 tsp. cinnamon
1/8 tsp. allspice
1/8 tsp. freshly grated nutmeg
1 cup heavy cream
1 Tbsp. maple syrup/honey/brown sugar
Recipe:
Preheat oven to 400 degrees F (approx. 205 C).   While oven is preheating peel and chop squash into about 1 inch pieces.  Line a baking tray with parchment paper (not entirely necessary, I just hate to clean pans) and mix the squash pieces with the veggie oil and salt.  If you're using regular table salt, decrease the amount to about 1/2 tsp.
Pop the tray into the oven and set the timer for 30 minutes.  At thirty minutes take the squash out, stir and put back for another 30 minutes.  If you're impatient like I am, feel free to put it on convection bake.  All that we are trying to achieve here is to create the roasted flavor, texture is not important, because the squash will cook even longer in the chicken stock before being pureed.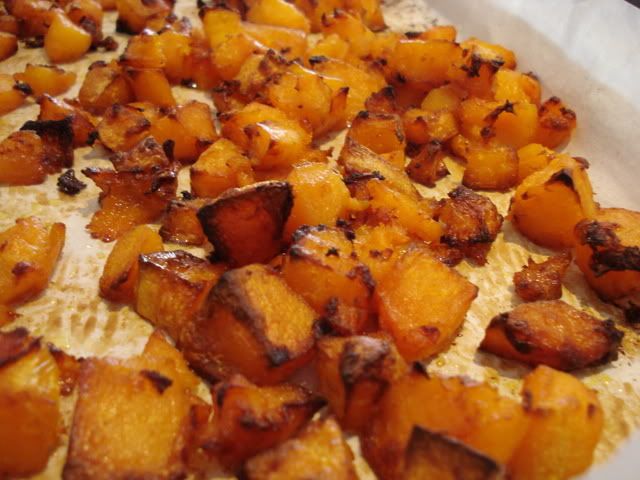 So, while you may want to stop cooking the squash when it looks like the picture above, put it back in until it looks like the picture below.  The darker brown the squash gets, the more of that wonderful roasted flavor will be in the soup… up until you get a bunch of burnt ones, at which point it will start to taste toasted not roasted.
Once you've gotten the squash started, it's time to get the herbs and spices steeping in the broth.  I'm using chicken broth, but you could used veggie stock, mushroom stock, or even water if you've got nothing better.  The herbs and spices I use here are bay leaves, ground sage, cinnamon, nutmeg, and allspice.
If you've got poultry seasoning you could replace the sage, or you could replace the cinnamon, nutmeg, and allspice with a pumpkin pie spice mix.  If you don't have the allspice, don't worry.  Put it all in a pot and bring it up to the boil, put on the lid, and turn it off until the squash is done.
I feel strongly about grating the nutmeg fresh as you need it.  Once you've tasted fresh grated nutmeg, you won't go back to the pre-ground stuff.
Once the squash has finished roasting transfer it to the pot with the chicken broth and spices, and bring to a boil then let simmer for 20 minutes, or until the squash just starts breaking down.  At this point REMEMBER TO TAKE OUT THE BAY LEAVES!  No one wants to have little shards of bay leaves, which is what you get if you forget to take them out before you puree it.  It's not as if you're going to get sick from eating bay leaves, but it's like taking the bones out of salmon before you serve it.
There are several options for pureeing; my favorite is the immersion blender, seen above.  But, I'm getting ahead of myself.  Before the pureeing and after the removal of the bay leaves you'll add your creamer of choice.  The ones that I have tried, and can easily recommend are: one can of unsweetened coconut milk, one to two cups of heavy cream, or one 14 ounce package of soft tofu that's been pureed with some of the liquid in the tofu package.
Once you've gotten it pureed to your satisfaction give it a taste and see if you want to add some sweetening.  I added a tablespoon of Grade-B Vermont maple syrup, but you could add some brown sugar, honey, or a bit of molasses.
The bowl here was made with chicken broth, creamed with pureed tofu, sweetened with maple syrup, and topped with sliced almonds and chopped chives.  Some of my favorite toppings include: home-made croutons, sliced almonds, chives, sliced green onion, candied pecans, and roasted pumpkin seeds.
Recipe Alterations:
Chicken stock/broth:

Vegetable stock
Mushroom stock
Water

Whole butternut squash

Acorn squash
Pie pumpkin
Pre-cubed squash

Fresh
Frozen

Pumpkin puree (NOT the pre-mixed pumpkin pie filling)

Cinnamon, nutmeg, allspice

Pumpkin pie spice mix
Can leave out allspice

Ground sage

Poultry seasoning

Heavy cream

Half and half
Coconut milk (NOT the sweetened drink mix)
Pureed silken/soft tofu

Maple syrup (the real deal, not that breakfast syrup that's artificially flavored)

Brown sugar
Honey
Molasses

Sliced almonds

Candied pecans
Roasted pumpkin seeds
Homemade croutons (or some fairly lightly seasoned store-bought ones)
Sliced green onion
Chopped chives
Parsley

Puree the soup with:

Immersion blender
Regular blender (be careful not to let the pressure build up, crack the lid and cover with a tea towel)
Food processor (be careful not to overfill)
Food mill
If you have no other option you could:

Push it through a strainer or sieve with your ladle
Mash it with a potato masher
Whip it with a hand-held or a stand mixer (be very careful, soup is hot)